Contact: Tori J Hasty
Email: publicityintern12@gmail.com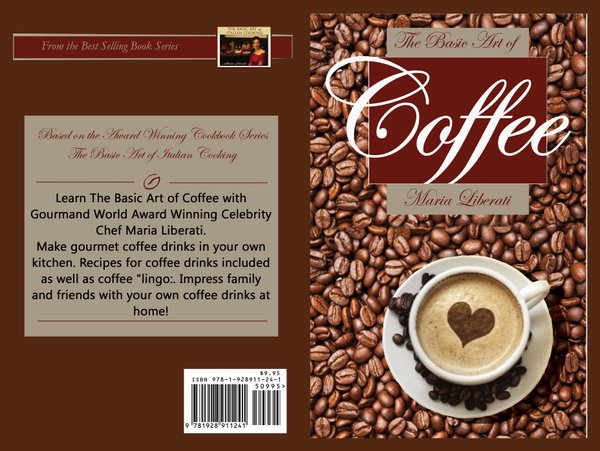 FOR IMMEDIATE RELEASE….
Celebrity Chef, Maria Liberati releases: The Basic Art of…. Coffee
The Basic Art of Coffee (ISBN 978-1-928911-24-1) by Gourmand award winning author and Celebrity Chef Maria Liberati, released on January 15, 2016 is the latest entry in her The Basic Art of … series.
The Basic Art of…Coffee contains recipes for coffee drinks served in some of Italy's most popular coffee bars, along with short stories and coffee 'lingo' to make the reader fluent in coffee!
Eleven years ago, Maria Liberati published the first book in her The Basic Art Italian of Cooking book series, The Basic Art of Italian Cooking. Liberati now has great new recipes and stories to share about the art of making amazing cups of coffee and extended this into her The Basic Art of..series.
Not only does this book feature easy-to-read recipes and entertaining stories, it presents an entirely new vocabulary to make everyone a "coffee expert." The Basic Art of Italian Cooking book series was awarded the Gourmand World Cookbook Awards in Paris, France.
The Basic Art of Coffee is more than just a cookbook, it is a lifestyle. Through this book she explores one of the most elegant and important beverages in the European culture. This 32-page book is a personal journey with Chef Liberati that takes readers through the history and culture of coffee.
The Gourmand Award Winning Author and TV show Host, Maria Liberati is known by the connections she has made between food, art, travel, and life. Liberati is described as the "Italian Martha Stewart," by Celebrity Society Magazine.
The Basic Art of Coffee is priced at $9.95 (ISBN 978-1-928911-24-1) and is available at Amazon.com. Join 3 00,000 worldwide followers and subscribe to Maria Liberati's successful blog, "The Basic Art of Italian Cooking…where food meets art, travel and life!" on www.marialiberati.com, and follow her on twitter (@Marialiberati) and Facebook.
#
Here is an excerpt and a recipe (copyright 2016  Art of Living,PrimaMedia,Inc/Maria Liberati:
An Ode to Coffee and Morning
Don't disturb me
I need to be alone
oh so not true…
I need to be with you
…my splendid cup of coffee!
Frullatto al caffe (Coffee 'frullato' or milkshake)
*2 cups of  espresso coffee
*4 tblsps of sugar or sugar substitute
*2 cups of chopped ice
*1 tsp of anisette or amaretto (you can also substitute flavor of your choice instead of liqueur)
*1 cup milk (part skim or skim milk)
Put all ingredients in a blender and blend for 30 seconds. Serve immediately in two tall chilled glasses.
Get your copy on Amazon or Kindle  http://www.amazon.com/Basic-Art-Coffee-Maria-Liberati/dp/1928911242/ref=sr_1_1?ie=UTF8&qid=1455869964&sr=8-1&keywords=the+basic+art+of+coffee
get more recipes in the Gourmand World Award winning Book The Basic Art of Italian Cooking: Holidays and Special Occasions-2nd edition